Learning Environments
Enhancing the learning environment with the latest in instructional technology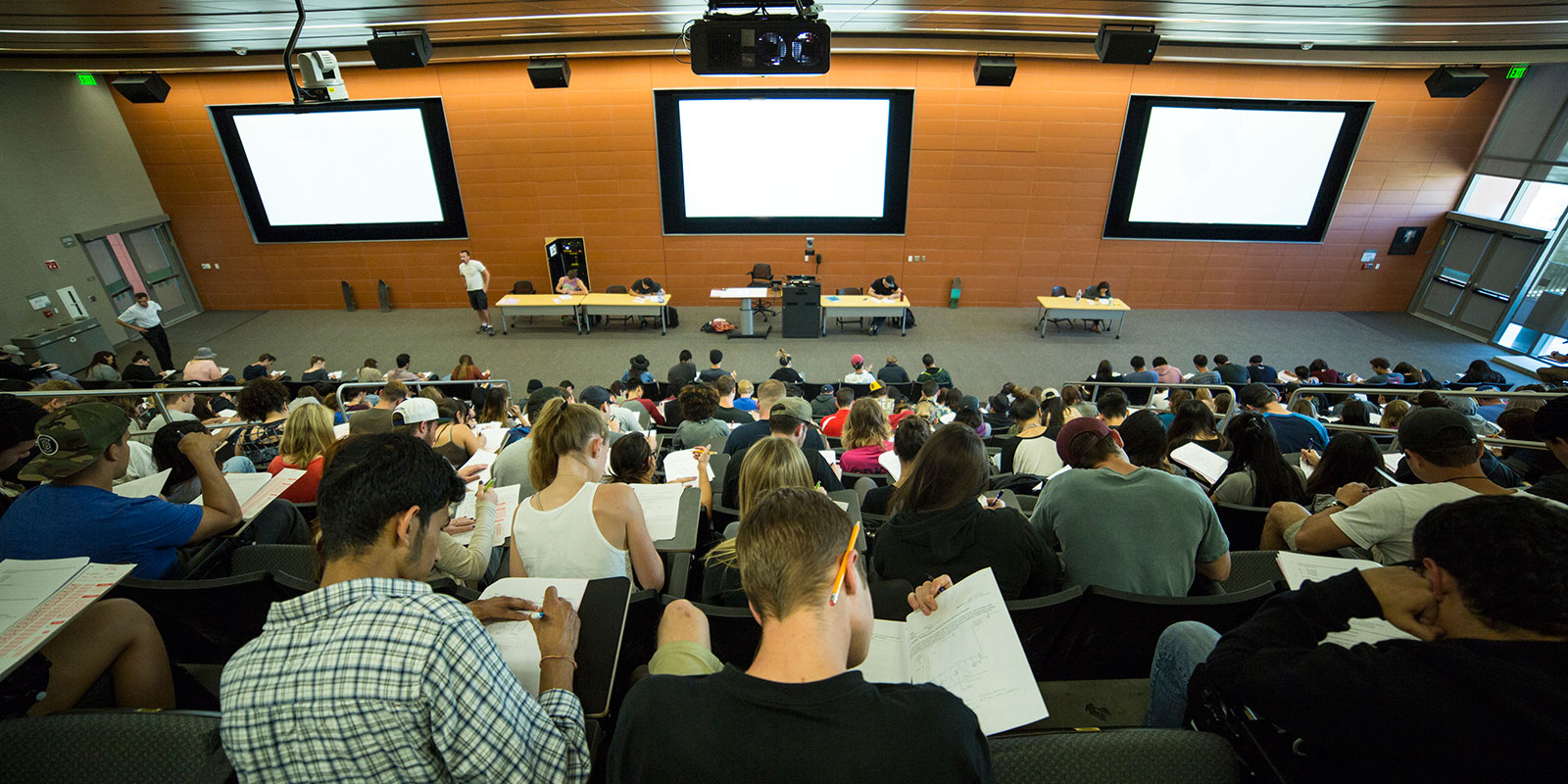 The Classroom system accommodates a wide variety of teaching pedagogies. Through the convenient interface, faculty can choose between connecting their own technology or simply using one of the many technologies provided.
Most Classrooms contain a video/data projector, built-in Windows and Mac computers, laptop connectivity, a DVD/Blu-ray player and document camera. Larger lecture halls also contain voice projection equipment. Many rooms also contain specialty devices such as interactive pen displays and lecture capture systems.
Features and Benefits
Classroom podiums are equipped with both Mac and Windows computers (standardized with SDSU site-licensed software) to give instructors the freedom and flexibility to teach in any of our 180 learning environments.
The various technologies unlock the ability for faculty to express their own teaching styles in a manner both unique and innovative.
The document camera helps faculty to reach a larger audience without visually diminishing the content (as sometimes happens when using whiteboards).
Need Help with Zoom in Your Classroom?
ITS has a team of Student Assistants who provide support for faculty in Connected Classrooms through consultation services, training, and face-to-face support for Zoom. These students are available during our normal hours of operation to provide in-classroom Zoom support.
Configure Connected Classroom mic/camera and podium equipment
Setup and/or review meeting settings or breakout rooms prior to class
Create and assign breakout rooms
Help with audio or video issues
Moderate chat and polling
Record sessions
Manage breakout rooms
IMPORTANT: Student Assistants are not authorized to proctor or grade exams, assignments, or quizzes.
If you would like to sign up for this type of assistance, please send us a ServiceNow request, and we will get back to you right away.
Getting Started Questions
What types of technologies are in my classroom? – Classrooms contain an instructor podium with built-in Mac and Windows computers, laptop connectivity, DVD/Blu-ray player and document camera; large lecture halls also contain voice projection equipment. Classrooms may vary, however, so for an accurate list of the technology available in your assigned room contact the ITS Learning environments help desk at extension x45691 (619-594-5691).
How do I get a key to open the Classroom podium? – To ensure success in the classroom, all instructors who would like to use the technology must receive training from ITS. Once training has been completed, we'll give you a key issue authorization form which you will take to Key Issue (by Public Safety) to obtain the key. For more information, please refer to the key issue policy.
If I need help during my class, who should I call? – All classrooms are equipped with a telephone (typically located near the instructor podium) as well as signage containing the Learning Environments help desk phone number (45691). ITS staff are available to assist you from 7:30 am-9:40 pm, Monday through Thursday, and 7:30 am - 4:00 pm on Friday. During Summer, ITS staff are available to assist you from 7:30 am - 4:00 pm.

Instructional Technology Services
Adams Humanities, 1st Floor
San Diego State University
5500 Campanile Dr.
San Diego, CA 92182-8114