Learning Glass
Enhance your online course and student experience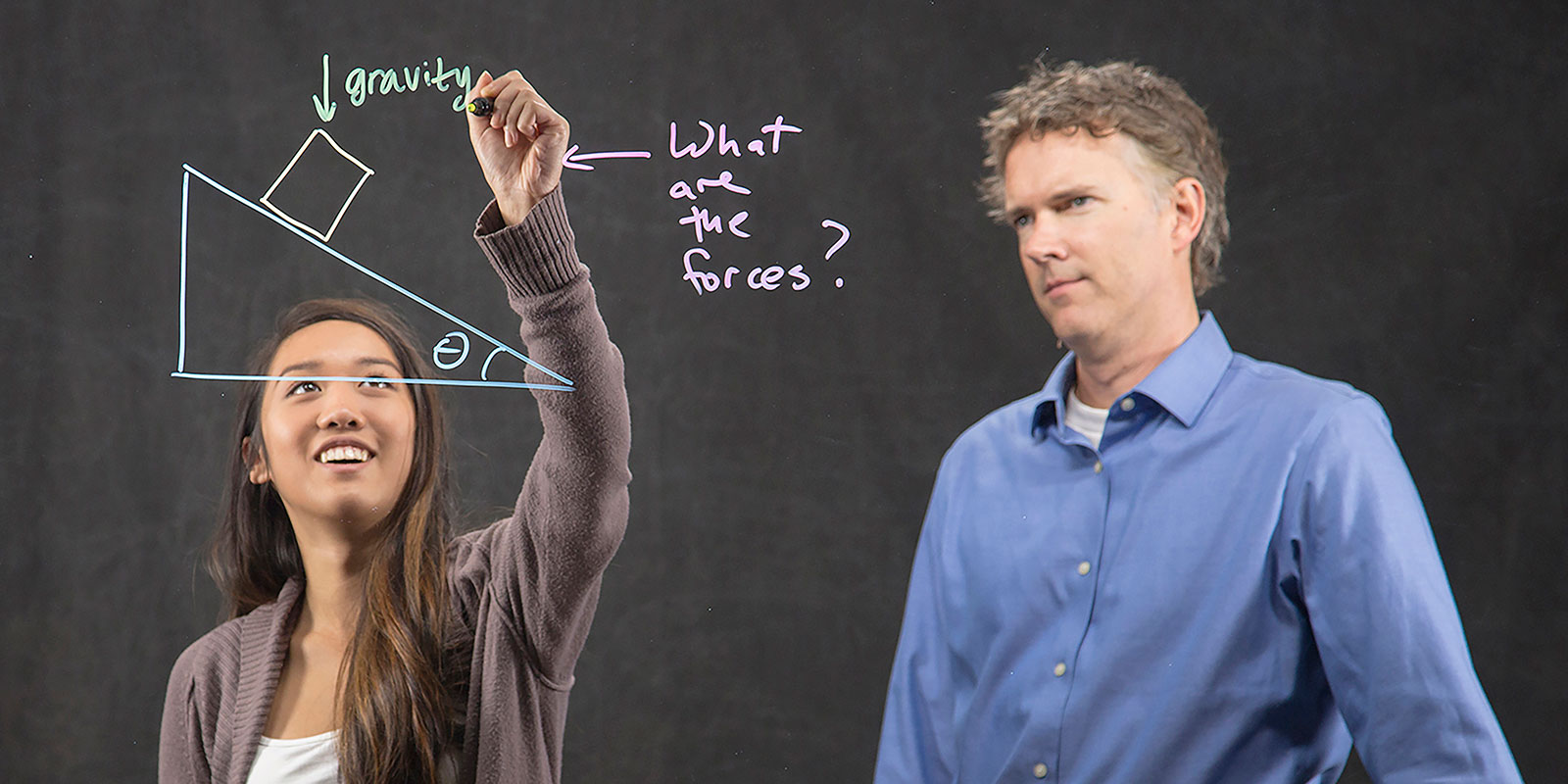 The Learning Glass is new technology for recording lectures that allows instructors to write lecture notes while maintaining face-to-face contact with students. It's a transparent whiteboard paired with our Capture system. The instructor writes normally, left to right, then the recorded image is flipped so students can view the notes correctly through a monitor.
The studio is capable of "one-button" recording to a USB device, or automated recording through Mediasite, our Capture system. Note: If using the "one-button" recording, the final output is a universal mp4 file format. The system requires a USB 3.0 device, formatted FAT32, and will need roughly 1 GB per hour of recording time. The recommended USB drive is the SanDisk Ultra CZ48 32GB USB 3.0 Flash Drive.
Interested in building your own Learning Glass? Take a look at the Learning Glass Specifications and Assembly Manual.
Features and Benefits
Unlike traditional classrooms where the instructor's back is to the students while writing on a whiteboard, the Learning Glass allows for a more engaged, natural, relaxed, and interactive viewing experience.
The instructor is recorded forward facing which allows for natural eye contact with the camera/students, gesturing and demonstrating what has been written on the glass.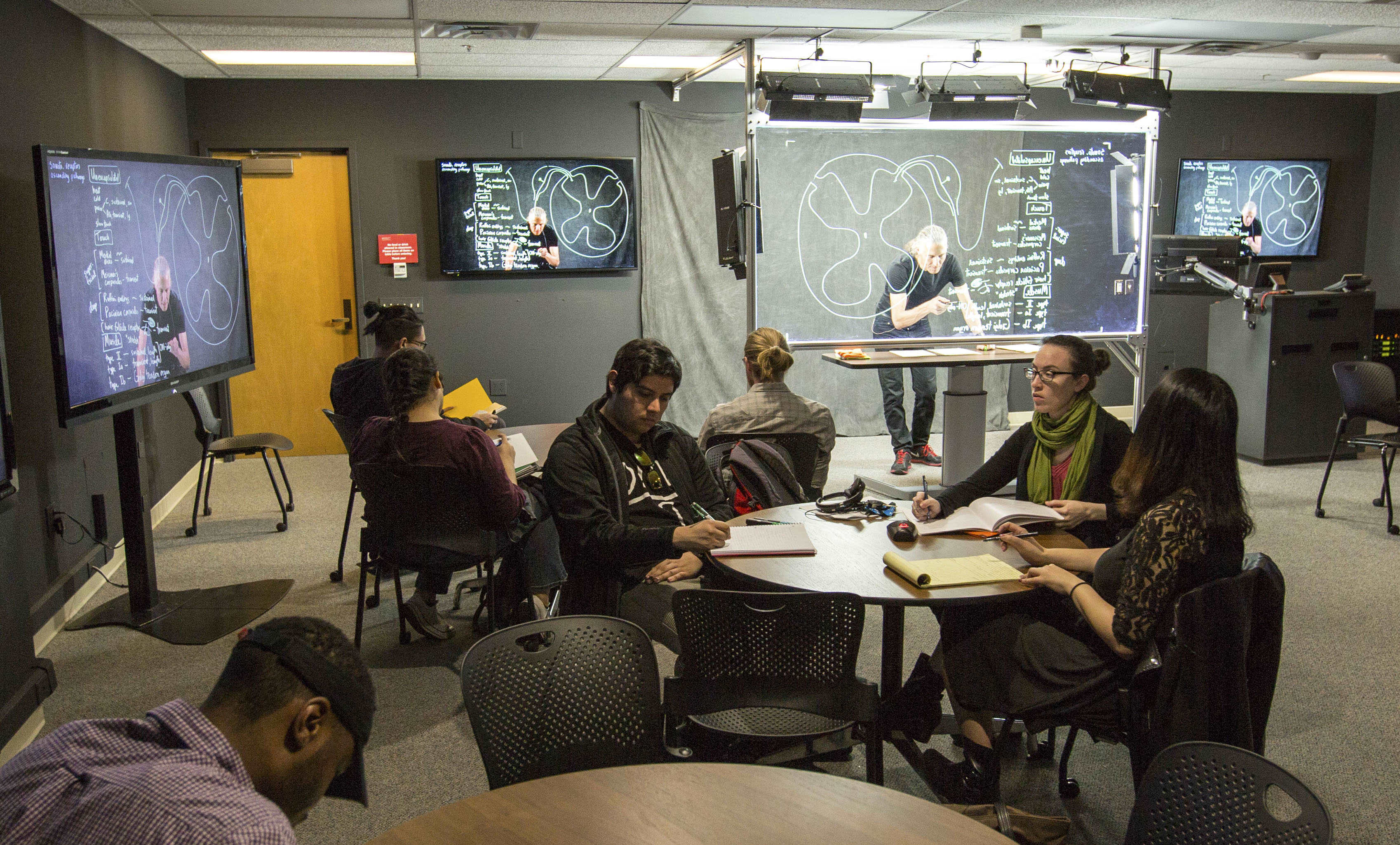 Getting Started Questions
How can I reserve time in the Learning Glass Studio in SSW 2667? – Please fill out our Learning Research Studio Reservation form and note that you are interested in SSW 2667, the Learning Glass Studio. ITS staff will respond to your request as soon as possible.
How can I reserve time with the Learning Glass one-button studio in the Digital Humanities Center (LA 61)? – Please visit the Digital Humanities Center website to view availability and reserve time with the Learning Glass one-button studio.
Can I incorporate my Powerpoint slides while using the Learning Glass? – Yes, if you choose to record with Mediasite. Our Mediasite technicians can add a multimedia feed to your recording, allowing your students to switch back and forth between you at the Learning Glass and your Powerpoint.
Is it possible to have a live audience while recording? – Yes, the Learning Glass Studio can accommodate up to 24 students, and each student table is outfitted with a wireless microphone. This allows student questions to be captured onto your recording. Flat panel displays are also placed throughout the room allowing your live audience to view the "flipped" image of the Learning Glass.
What are faculty saying about the Learning Glass?
According to James Stigler of UCLA, "The Learning Glass has the potential to greatly enhance the effectiveness of instructional video. Our research shows that gesture is critical for learning from online video, yet most videos don't even show the hands of the presenter. Learning Glass adds a whole new channel of communication between teacher and learner, and increases comprehension and understanding. It's a real breakthrough, and I anticipate it will be rapidly adopted."
Instructional Technology Services
Adams Humanities, 1st Floor
San Diego State University
5500 Campanile Dr.
San Diego, CA 92182-8114