Training & Workshops
Fall 2023 Workshops

Please join us at our upcoming virtual workshops on instructional tools! For your convenience, click on the dates below to add the workshops to your calendar. All sessions will be held via Zoom, unless otherwise noted.
October:
November:
December:
12/1, 1–2pm

-

my.SDSU Grading Overview:

Learn how to enter and submit grades in my.SDSU.​​​​​​​
12/5, 12pm–1pm

-

Introduction to Gradescope:

Getting Started, Bubble Sheets and Beyond, Q&A.
Fall 2023 Classroom Trainings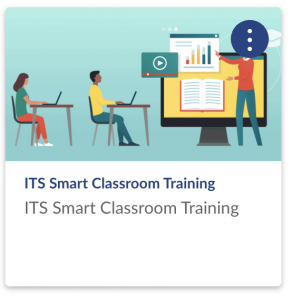 If you are teaching in a classroom and need training, you may self-enroll in our online Classroom Training Course. This course covers our various types of classrooms, including our new Connected Classrooms, with how-to videos and job aids on operating the equipment.
Refer to our San Diego Classroom List or Imperial Valley Classroom List to determine if you are teaching in a TouchLink or Control Panel room. For information on building locations you may check the SDSU Campus Map.
For more information on classroom trainings, or to view past live workshop recordings, please visit our Classroom Trainings page.
For any questions regarding Classroom trainings please submit a ServiceNow ticket and one of our staff members will get back to you right away.
SDSU Flexible Course Design Toolkit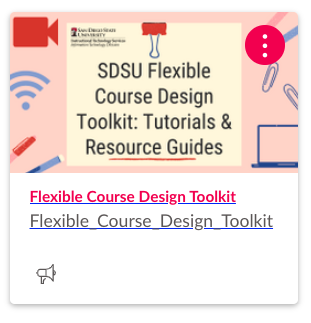 For SDSU faculty who are new to hybrid/online teaching, the Flexible Course Design Toolkit offers customizable experiences to enhance online, hybrid, and blended teaching skills and knowledge.
This course is a self-paced, unmoderated, asynchronous version of a course that was used as training for SDSU Faculty to prepare for Fall 2020.
To preview the content of the Canvas course, please use this course link.
To add this course to your courses, please use this enroll link.
Canvas Support Homeroom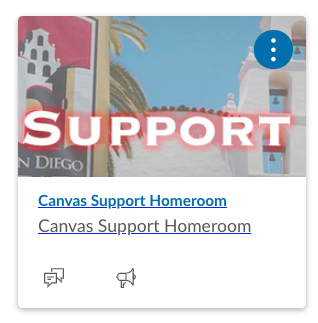 The Canvas Support Homeroom is a Canvas course with helpful resources regarding Canvas. This includes all the recordings of our previous ITS workshops and ITS Quick Talks and our Canvas Migration Guide. The purpose of a homeroom is to foster collegial relationships, promote a culture of learning and sharing, increase participation and engagement, and provide support.
To preview the content of the Homeroom, please use this course link.
To add this course to your courses, please use this enroll link.


Faculty Training & Workshops
All live sessions are hosted via Zoom at http://sdsu.zoom.us/my/learn. Subscribe to our Calendar!
Workshops Calendar
Please see the calendars below to see workshops and events that are hosted for faculty and staff at SDSU. Click the events to see more details, including the location and a registration link, if applicable. Subscribe to this calendar to stay up to date on our trainings!
Canvas LMS Training Workshops
Modality: Time-bound, online synchronous [recordings available]
Variable Duration/Topic
Canvas Self-Paced Online Course
Modality: Self-paced, online asynchronous with facilitation
Duration: 4–6 hours Self-paced
Dates: On-going
Adapted from Canvas Pilot.
Canvas Support Homeroom
Modality: Online asynchronous
On-going Resources
Dates: On-going
Canvas Instructure Training
Modality: Self-paced, online asynchronous with facilitation
Variable Duration/Topic
Dates: On-going
Unlimited Subscription for SDSU Faculty & Staff.
CSU Online Course Services Course Offerings
Free, online, asynchronous courses lasting 3 weeks for designing or reviewing online and hybrid courses.
Offerings
Request Training
You may submit an incident via the ServiceNow Service Portal for any ITS related training needs.
Log into

servicenow.sdsu.edu

using your SDSUid
Click on

Get Help | Report a Problem
Click on your

college's/department's help desk
Select

Instructional Support (ITS)

as the Category
Complete other

required

fields with as much detail as possible
Click

Submit
For more detailed instructions on submitting a ServiceNow Support Ticket, please view this ServiceNow knowledge base article.
Virtual Faculty Instructional Technology (FIT) Center
The Virtual FIT Center will be available Monday-Friday from 8 a.m. – 4:30 p.m. The Virtual FIT Center is available via Zoom at sdsu.zoom.us/my/sdsuits or from the app by entering SDSUITS into "meeting id or personal link name".
Instructional Technology Services
Adams Humanities, 1st Floor
San Diego State University
5500 Campanile Dr.
San Diego, CA 92182-8114