Affordable Learning Solutions
In the Spring of 2016, Instructional Technology Services (ITS) and the SDSU Bookstore, working in conjunction with a team that included the Library, Student Ability Success Center, and the Center for Teaching and Learning, submitted two grants to the CSU Chancellor's Office to fund an Affordable Learning Solutions (AL$) program at SDSU. These grants provide incentives and reward campus department and faculty efforts to accelerate the adoption of lower cost or free open educational resources (OER) in credit-bearing, stateside courses. From 2016-2020 we calculate total student savings to be almost $11 million. We believe this program has had a positive impact on over 120,000 students.
OER resources consist of textbooks, full courses, course modules, syllabi, lectures, homework assignments, quizzes, lab and classroom activities, pedagogical materials, games, simulations, and many more resources contained in digital media collections from around the world that can be freely used and adapted as needed by faculty.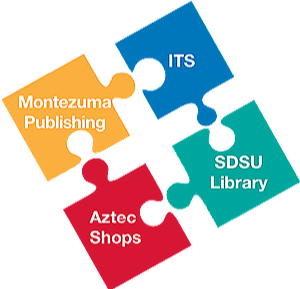 Program initiatives include:
The SDSU Immediate Access program

provides discounted digital textbooks to students before school begins to ensure that students are "Day One Ready." Students can opt out any time before the drop/add period ends. About 95 percent of students remain opted-in. This program has been adopted by many CSU campuses.

The Department of Rhetoric and Writing Studies applied for and received a $10,000 mini-grant in 2019 to expand the use of more affordable and free resources in RWS100 and RWS200 potentially impacting over 3000 students in Spring, 2019.

The MERLOT Challenge was offered in 2018 to encourage faculty to explore OER resources contained in MERLOT for potential adoption. Twelve faculty participated and received a $100 stipend as well as presenting at a Center for Teaching and Learning (CTL) lunch.

Faculty adopting OER in their courses saved over 16,000 students more than $2 million dollars between 2016-2020. Our SDSU Faculty are featured on the California Cool4Ed website in the

Faculty Showcase

. These showcases provide information on how to adopt and use OER.

We have offered a variety of training workshops, consultations and informational presentations on how to locate and use affordable resources. Almost 800 faculty and staff attended. Our Flexible Course Design Institute, which was started to help faculty transition to online after Covid lockdown, included a Library module with a focus on OER. At least 130 faculty completed the module.

In Fall of each year, we host a Recognition event and provide stipends for OER adoption.

Our current project is the creation of an open library of support and instructional materials to enhance virtual reality and 3D simulations created as part of the

SDSU ViTal program

. In addition, we will be conducting an impact study on the effectiveness of these resources on student learning.
Instructional Technology Services
Adams Humanities, 1st Floor
San Diego State University
5500 Campanile Dr.
San Diego, CA 92182-8114