Graphic Design
Fresh, creative graphic design to make your next project shine (on time)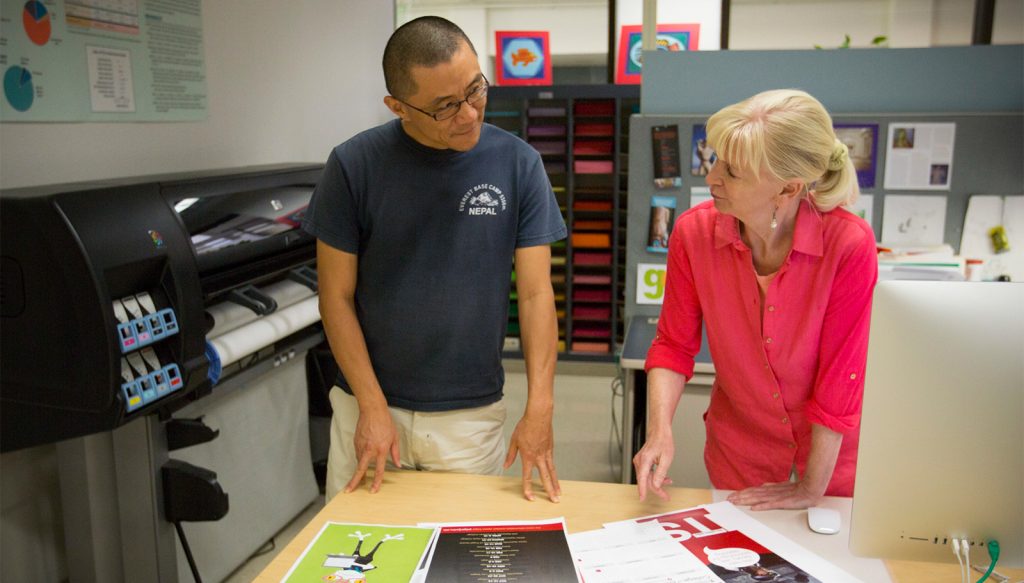 ITS Graphics offers the facilities, resources and all types of creative services to design and produce high quality print and electronic presentation, promotional or educational materials to faculty and staff in a professional and responsive way. Our goal is to provide you with smart, beautifully designed materials to make your next project a success!
Additional Information
Graphic design for print and electronic materials
Digital illustrations and designs
Poster sessions
Large format printing, laminating, mounting
Designs for website and support elements
Personal service: visit us in the Administration Building, Suite AD1 to discuss your next project
Features and Benefits
High quality, creative graphic designs: we will help you make your next project a success!
Faculty and staff come to us for help with various projects: brochures, newsletters, flyers, logos or a poster for a conference. For a complete list please see list at the end of document
We are your personal graphics team, here to help you with your project from start to finish.
Getting Started Questions
How do I get my project started? – Please use our Graphics Request Form to provide us with the basic information about your project. We may suggest a meeting or request additional information.
What does it cost? – For faculty and staff, creative services and basic materials that directly support SDSU instruction for matriculated courses are prioritized and are free of charge (exceptions apply). ITS is mandated by the state to charge for all other services and material, which is used for cost-recovery of materials, facilities, and labor. We will provide you with a cost estimate.
How long does it take to produce? – Each project is different. We will do our best to work within your timeline whenever possible. Please send us your requests as far in advance as possible, especially if you have a specific deadline. A 10-14 day turnaround time for posters is appreciated.
Graphic Design Services
Brochures, catalogs, newsletters, various teaching materials
Posters, flyers, announcements, invitations, postcards, labels
Logos, identity packages (letterhead, envelopes)
Computer generated illustrations
Graphs, charts, maps, technical drawings
Large exhibits, displays and banners
Graphics for promotional materials
Websites: interface design, banners, support art files
Posters (large format for presentations)
Printing: large format posters and banners on paper and fabric; limited quantity printing for small format items
Laminating and mounting
Scanning, retouching
Art and image libraries
If you don't see your project elements listed, please call or email us:
Monika Lemp:
[email protected]
619-594-4320
Jiong Li:
[email protected]
619-594-3868
Graphics Resources
Instructional Technology Services
Graphics Team
ADMIN
San Diego State University
5500 Campanile Dr.
San Diego, CA 92182-8114