Canvas Learning Management System
Engaging your students beyond the classroom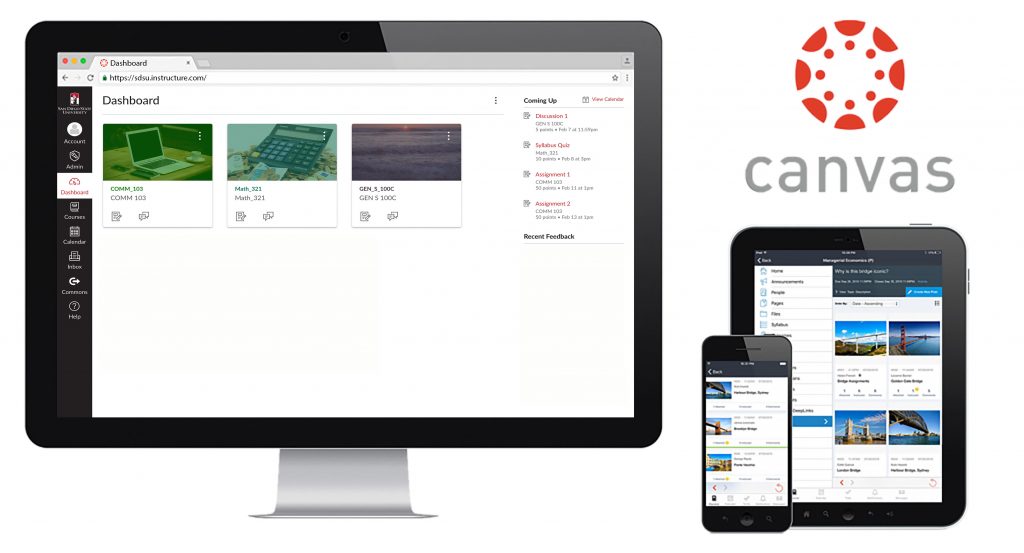 Canvas serves as SDSU's official learning management system. Faculty can post course content, recorded lectures, YouTube videos, discussions, grades, tests and more.
Canvas automatically maintains your course enrollments from the Student Information System and is a great way to reach your students. Courses are private and accessed only by you and your students.
Features and Benefits
Online Learning Management system which can be used to share information with students.
Collect assignments, use external tools, and conduct online assessments and provide students feedback.
Mobile App – Allows students to stay up to date with courses and access the course materials how they prefer.
Getting Started Questions
How do I get started? – ITS has compiled Getting Started Resources in the SDSU Canvas Support Homeroom.
How do I log in? – Visit canvas.sdsu.edu and use your SDSUid login to access Canvas.
How do I get an SDSUid? – SDSUid Activation information can be found on the IT Division website.
How do I obtain support? – Our Support team is available to assist faculty or staff with any Canvas questions. Please visit our support page for hours and how to contact us. SDSU also has Canvas 24/7 support which can be reached 24/7 by phone (619) 483-0632 or live chat by clicking the Help button when logged into Canvas.
For Students, support is provided by the SDSU library computing hub
Canvas Resources
Instructional Technology Services
Adams Humanities, 1st Floor
San Diego State University
5500 Campanile Dr.
San Diego, CA 92182-8114