Capture
Help students become listeners, not stenographers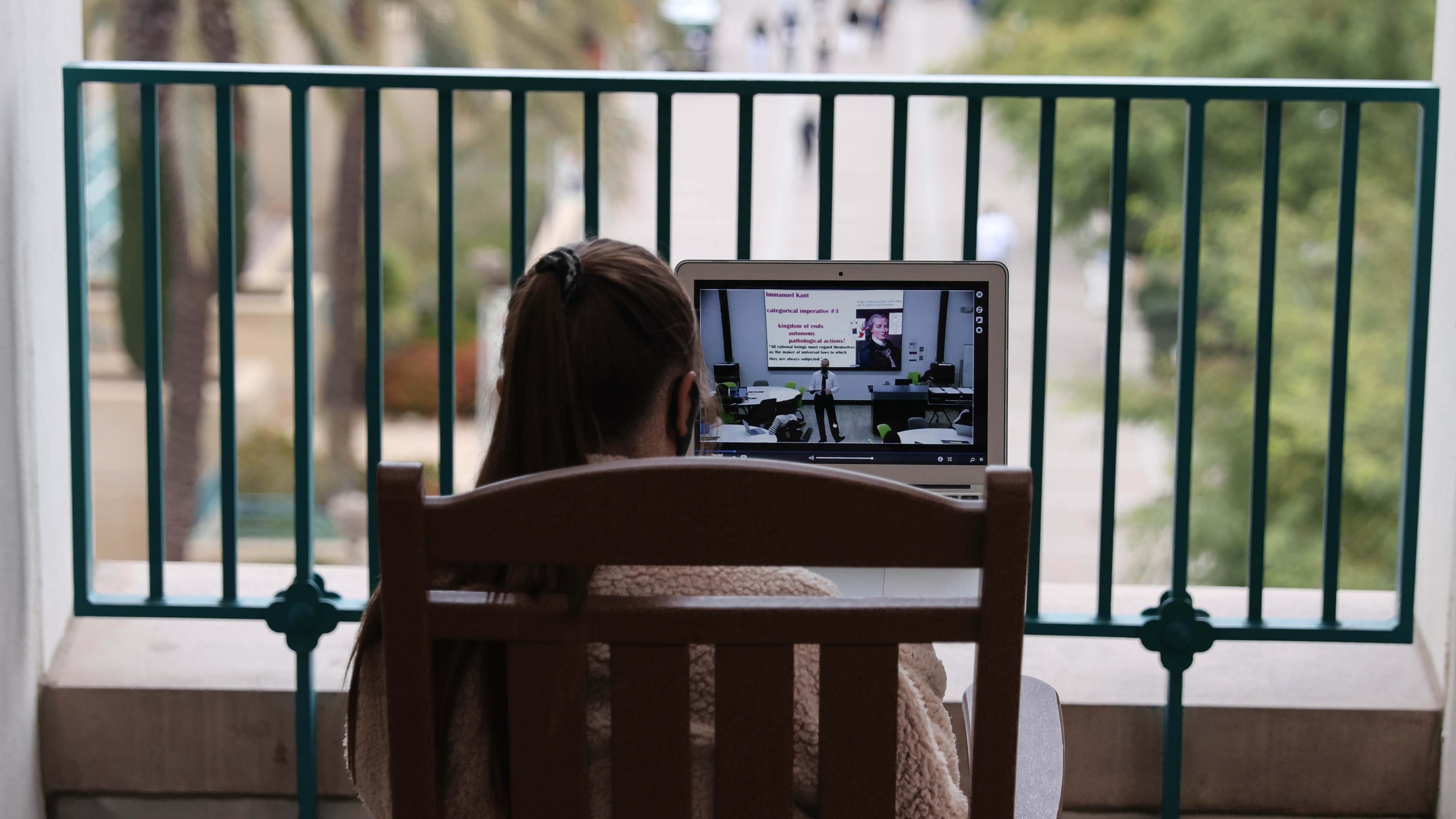 Set your microphone, start the recording, then at the end of class, simply stop and submit with a click. In less than 24 hours, a movie with your narration, slides, and visuals is ready to post to Canvas for your students to review.
ITS offers Capture tools in both lecture halls and instructor devices. Additionally, Mediasite automated capture is available in select large lecture halls (see list below) and can be requested via the ServiceNow Catalog.
Screen Capture with Zoom
Zoom enables faculty and students to easily produce screen capture videos, including the on-screen content (i.e. Powerpoint, etc.), built-in or external microphone audio, and webcam video, as outlined in the following short (1 min. 43 sec.) video:
Canvas Studio
Canvas Studio provide an array of screen capture, video hosting, and interactive video functionality, including in-video quizzing and threaded discussions. Canvas Studio is available within the Canvas interface at canvas.sdsu.edu. Canvas Studio training guides are available on the Canvas Studio Guide website.
TechSmith Camtasia Video Editor
TechSmith Camtasia is available to all SDSU faculty and staff. To obtain a license, please complete the ITUS Software Request Form. Training videos are available on the Camtasia Tutorials website.
My Mediasite Account
To access Mediasite, please visit mediasite.sdsu.edu and sign in with your SDSUid.
Mediasite Automated Capture is available in the following rooms:
A412
AH2108
AH3177
AL105
AL201
BT161
COM105
COM207
E201
E328
ENS280
FAC1014
GMCS301
GMCS310
GMCS333
HH130
HH214
HH221
HT140
HT183
LH343
LH345
LSS248
NE60
OP201
OP220
OP230
P144
P148
P244
PG153
PG242
PS130
PSFA310
PSFA325
PSFA350
SHW11
SHW12
SSE1401
SSW1500
How it works:
For more information on how the Mediasite system captures your course session and delivers the recording to your students, please watch our Introduction to Mediasite Video. Please read this shared Google Doc for our recommended Mediasite syllabus language.
Features and Benefits
Everything you say and show in class is captured and posted to Canvas for students to review at their own pace.
You teach your class as always, Mediasite captures and produces the finished video for you.
Record content for students to listen outside of class, and free up classroom time for discussion.
Getting Started Questions
If I provide Capture recordings, will my students still come to class? – The authors of an article published in the Australian Journal of Educational Technology investigating the impact of recorded lectures on student experience and attendance determined "this study does not support anecdotal concerns that Generation Y students will not attend lectures if they are provided online."
How can I incentivize students to attend and participate in face-to-face class meetings? – The use of the Audience Response System increases active learning and provides a way to incentivize student participation via low-stakes, in-class questions and activities.
Where can I get training? – Please contact us through our online support form to request training with Zoom, Camtasia Studio, or Mediasite.
What do students say about Capture? – Hear from a third-year SDSU student in the following video:
Capture Resources
Instructional Technology Services
Adams Humanities, 1st Floor
San Diego State University
5500 Campanile Dr.
San Diego, CA 92182-8114