Instructional Technology Services has recently made available three different 360 Cameras that Faculty can use for instructional purposes. The cameras include the Nikon KeyMission 360, Samsung Gear 360, and Ricoh Theta S 360. We compared the cameras and took three test footage examples.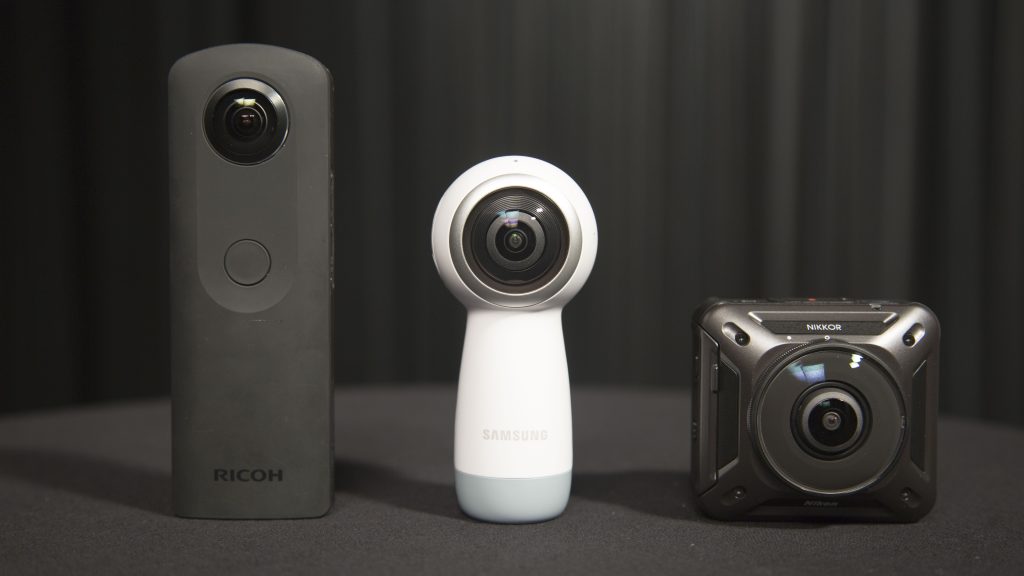 Nikon KeyMission 360 – The new 360 camera from Nikon is a cube shape. Any GoPro users will find it familiar, and it has a durable feel to it. It is capable of 4k Resolution video capture and the image quality is quite good. There is very little "barrel distortion" and the final production is stitch together quite seamlessly. It includes waterproof housing that can be used up to 100 feet, and shockproof up to 6 feet, making it uniquely rugged.
Samsung Gear 360 – What stands out about Samsung's 360 camera is that it has a nice handheld grip. It can be easily used on its own with a "selfie stick" which makes it good for walking around and capturing an environment. The Samsung can capture up to 1440p resolution video. The footage didn't seem to stitch together as seamless as the Nikon, which may be problematic for some users and require video editing if they need to fix it. See test footage for example.
Ricoh Theta S – The Ricoh was one of the earliest 360 cameras to be released. It has a long flat rectangle shape. It can capture up to 1080p video. The Ricoh also takes nice stills and has a quick post to facebook feature.
For storage, the Nikon and Samsung will require a MicroSD card to capture and transfer files. The Ricoh captures internally and doesn't need one.
The 360 Cameras will be available for checkout at the ITS Equipment Checkout starting Fall 2017 semester.