With the Fall 2020 semester coming to an end, we just wanted to provide a quick update with where we are in the Canvas transition.
Just as a quick recap: Beginning in Fall 2019, ITS, in partnership with the Information Technology Division, Academic Affairs, Enrollment Services, and leadership from across SDSU and in collaboration with a 47-person advisory group conducted a pilot test to explore new possibilities and features of the Canvas Learning Management System (LMS). The Fall 2019 pilot included 22 faculty teaching 26 courses with approximately 1,600 students. In Spring 2020, the Canvas LMS pilot was scaled up to include up to >100 faculty. Training workshops were conducted in Fall 2019 to prepare these faculty to teach with Canvas in Spring 2020. The LMS advisory group's evaluation sub-committee collected data from pilot faculty and students throughout the pilot to inform a recommendation to the Chief Information Officer and President's Budget Advisory Committee (PBAC) in May 2020.
With the endorsement of the Learning Management System Advisory Group, the University Senate's Information and Instructional Technology Committee, and SDSU leadership, it was announced Canvas adoption would begin in Summer 2020.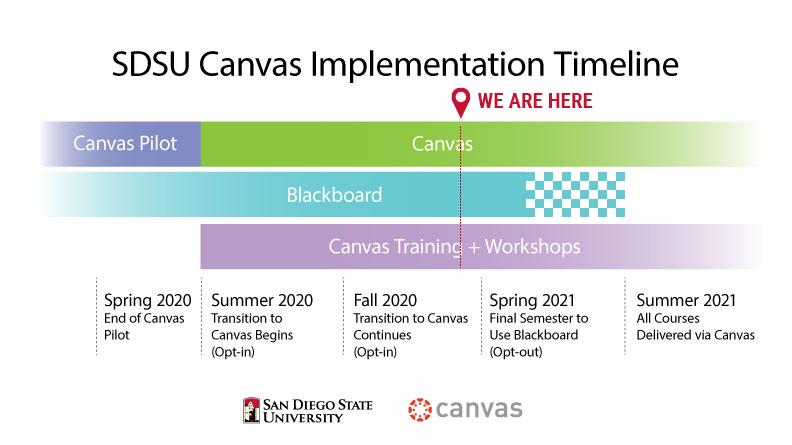 Starting Spring 2021, Canvas will serve as the default learning management system. Blackboard will be available to reference and download past course archives through the end of Spring 2021 (May 21, 2021).
While courses can be exported from Blackboard and imported to Canvas, the import to Canvas can result in a disorganized structure. Therefore, we created several migration resources, including a Blackboard to Canvas course migration guide. Additionally, our team is available to assist with migrating courses in the Virtual Faculty Instructional Technology (FIT) Center (see Zoom link and hours of operation below).
Note: Instructors who wish to opt-out of using Canvas in Spring 2021, Blackboard can be used for one final semester upon request via ServiceNow. If needed, please see these instructions on how to submit a ticket via the Service Portal. Please disregard if you have already submitted this request.
Please visit our ITS Training website for information on upcoming Canvas workshops and links to past recordings. For questions please submit a ServiceNow support ticket. You can also visit our Virtual FIT Center for a live (virtual) consultation. The Zoom link to our Virtual FIT Center is https://sdsu.zoom.us/my/sdsuits.
Virtual FIT Center hours of operation:
Monday-Thursday: 8AM – 6:30PM
Friday: 8AM – 4:30PM
For continued updates regarding the Canvas transition, please visit ITS' Canvas website.