By Kevin Krick
As a student assistant in Instructional Technology Services, I recently had the pleasure of getting to work on President Adela de la Torre's new podcast, Fireside Charla. I am a Junior in the Music Recording Technology and Audio Design program where we develop skills in recording, mixing, mastering, music theory, and music performance that prepare us for work in a variety of fields. When the President's Office approached ITS Director, James Frazee, for help getting this project off the ground, he thought that I would be a good resource for the technical aspects of the podcast given my experience and career pursuit. As it happens, I had just completed a two-semester course program using AVID Pro Tools software to record, edit, mix, and master music. I was eager to put my newly honed skills to use, so I jumped at the opportunity.
After some discussion with the SDSU podcast team about equipment and the recording process, we realized that SDSU has a professional recording environment right next door at KPBS Studios. They kindly allowed us to use their facilities to record — a good opportunity for me to see where someone with my interests and skills could work in the future. Now, I get to work with KPBS Operations Manager Lisa Morrisette on each recording session, making sure we brief the guests on microphone technique, ensure that each microphone's gain is set correctly, and capture clear audio.
Shoutout to our wonderful student Kevin Krick who's busy at work finalizing original music and editing to the new podcast we have been cooking up at the @kpbs studios. Stay tuned! Coming to a podcast player near you the first week of March! #communication pic.twitter.com/UOYs3ruvm5

— Adela de la Torre (@PrezdelaTorre) February 21, 2019
I was excited to meet President de la Torre, as I had never interacted with someone at her level of leadership and influence before. At the same time, she was excited and proud that an SDSU student would be so involved with her project.
Usually podcasts have intro and outro music that the producer finds online or buys from a stock music library, but I wanted to invest some of my personal time and effort to use all the skills and talents that I've learned and developed in my time at SDSU into making something of my own. So in addition to the in-house editing, I also wrote, played, recorded, and produced some original music for the project to add an extra layer of originality. The music features Jeremiah Zumaya (American Idol Season 2 contestant) and Chris Potente (SDSU Jazz Studies Major) on bass and drums respectively, and myself on both acoustic and electric guitar.
This has been, and continues to be a stimulating project for me to work on as I get to listen to important and interesting dialogue between our university's President and her guests, as well as put to use everything I've learned and am learning in my time as a student at SDSU.
Learn more about President de la Torre's podcast project, and listen to Fireside Charla at: sdsu.edu/firesidecharla.
Or listen through these streaming services: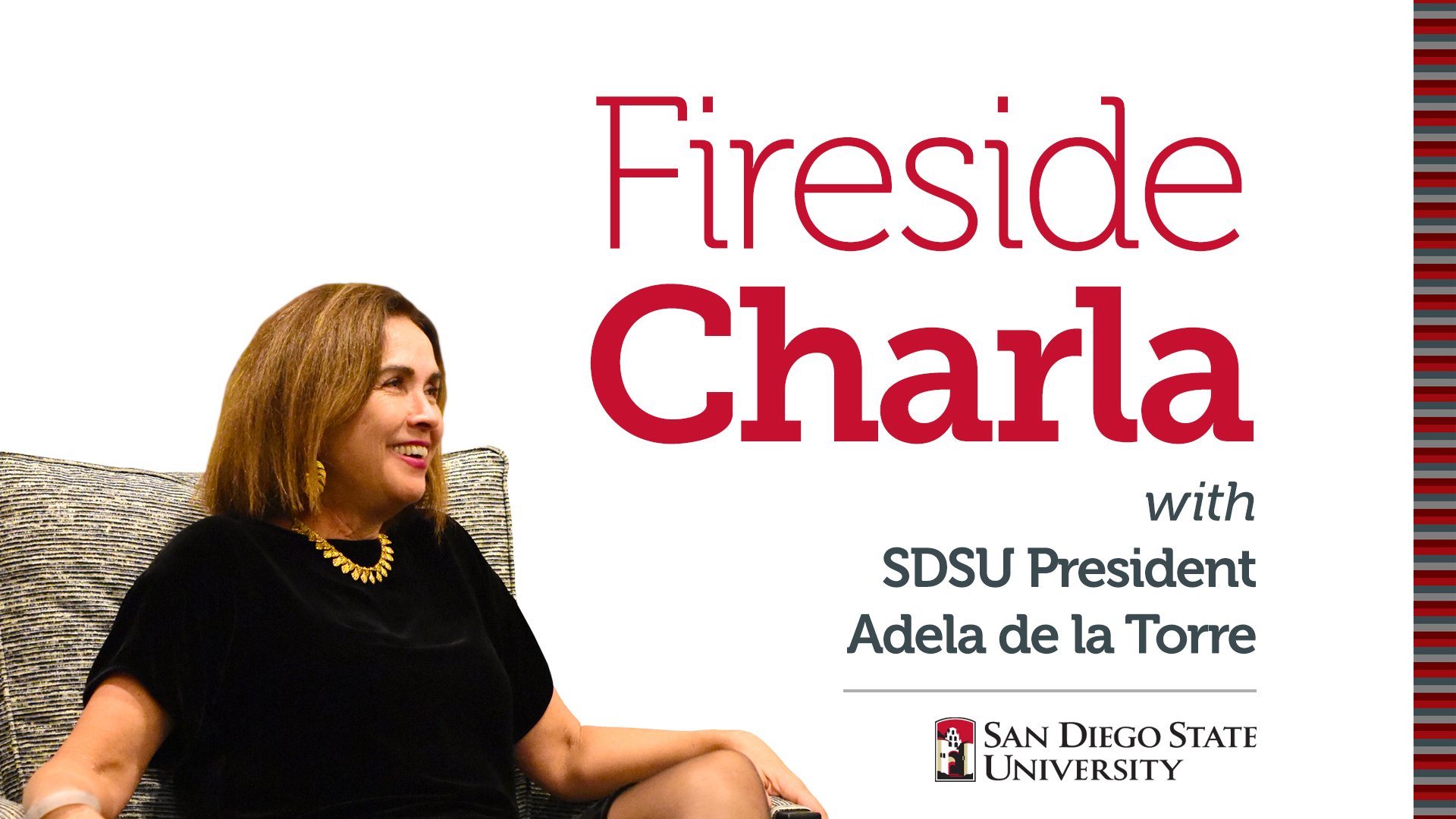 iTunes: https://itunes.apple.com/us/podcast/fireside-charla-with-sdsu-president-adela-de-la-torre/id1454417958
Spotify:
https://open.spotify.com/show/5IMKzt3VoFm5Ve3Db2ZNxx
Stitcher:
https://www.stitcher.com/s?fid=378319&refid=stpr