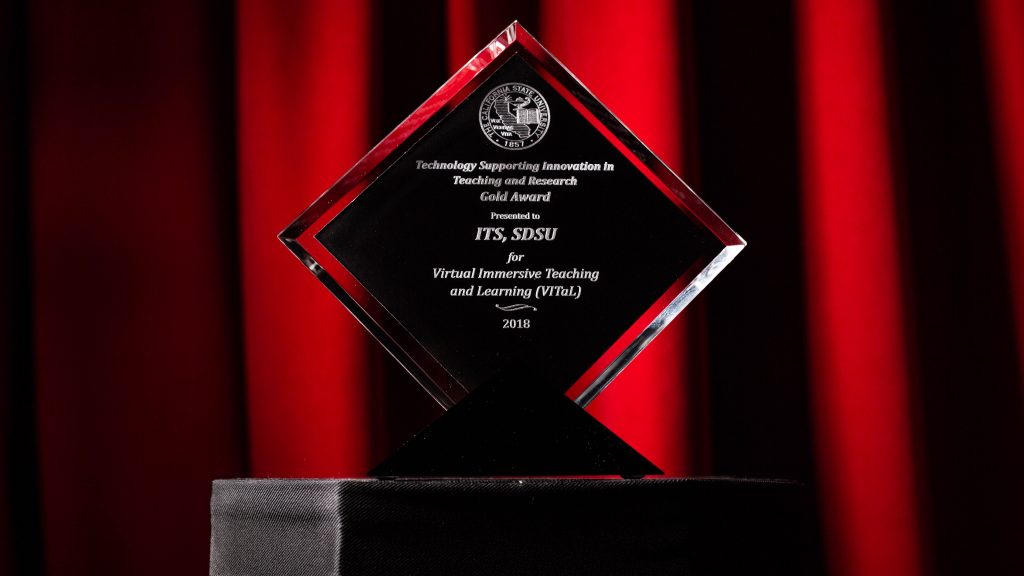 This July, California State University Academic and Information Technologists from all 23 campuses met at the annual Cal State Tech Conference in Sacramento to share, learn, collaborate, and ultimately strengthen the CSU's instructional and infrastructure technologies. In addition to presenting research and practice in the areas of augmented and virtual reality, and learning analytics for student success, ITS Director James Frazee attended the conference with Instructional Media Developer Sean Hauze, and Assessment, Research, and Communications Coordinator Maureen Guarcello.
Frazee and Hauze, with the SDSU Virtual Immersive Teaching and Learning (VITaL) Space Team, took home the Gold Award in the category of "Technology Supporting Innovation in Teaching and Research." The award, and the work being done in partnership with other CSU campuses, including Dr. Sara Kassis from Sonoma State (a co-presenter), attracted a crowd for, what was the final presentation of the conference. Definitely worth the wait.
Quick Facts: VITaL Initiative
Since the launch in Fall 2017, the VITaL initiative has been integrated into the curriculum of 26 courses. These courses range from 100-level undergraduate classes to 700-level doctoral research seminars, and represent all the colleges at SDSU. The use of VITaL in these areas of instruction and research range from studying the use of holographic patient simulation via the Microsoft HoloLens to deliver nursing instruction, to teaching phases of the moon via a VR application titled Universe Sandbox.
For more information about VITaL, or to arrange a demonstration, please contact Sean Hauze, [email protected].