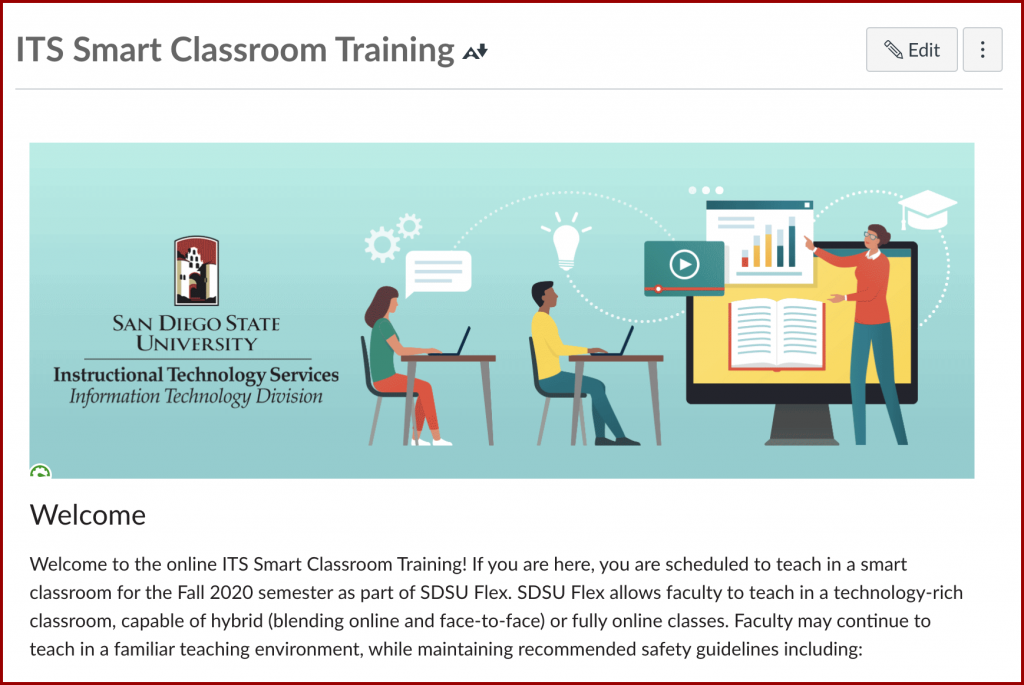 If you are faculty teaching in one of our campus Smart Classrooms, training on how to use the technology and features of these rooms is now available online via Canvas! To self enroll in this Canvas training course, please visit the following link: https://sdsu.instructure.com/enroll/A6HPRB.
This course covers each type of Smart Classroom, including the new "Connected Classrooms" which feature Zoom ready technology capable of recording and/or live streaming your lectures.
Benefits of Video Capture / Streaming:
Allows students to review recorded course sessions after synchronous instruction, or to view the recordings if/when campus meetings are not possible.

Provides transcripts (automatically generated) for recordings from the video collaboration platform, and if a student has a need for an (ADA) accommodation SDSU will caption course content in alignment with current campus practice.

Serves diverse populations e.g., students who are responsible for child or elder care, students who have transportation issues, students who have work conflicts.
New Faculty
If you are new to SDSU, you are required to complete this training course before your first class. Additionally, if your classroom requires a 101a podium key, this course will grant you a Key Issue form from Public Safety via Adobe Sign.
Returning Faculty
If you have previously taught on campus, you will want to check your classroom on the Smart Classroom List as it may now be one of our new "Connected Classrooms" that is Zoom ready. The online Smart Classroom Training course contains how-to videos and instructions on using this new type of room.
ITS staff is available to provide in-person classroom training by appointments only, should you need more information. If you would like to schedule an in-person training, please submit a ticket to ITS via ServiceNow at https://servicenow.sdsu.edu.