Course Design Institute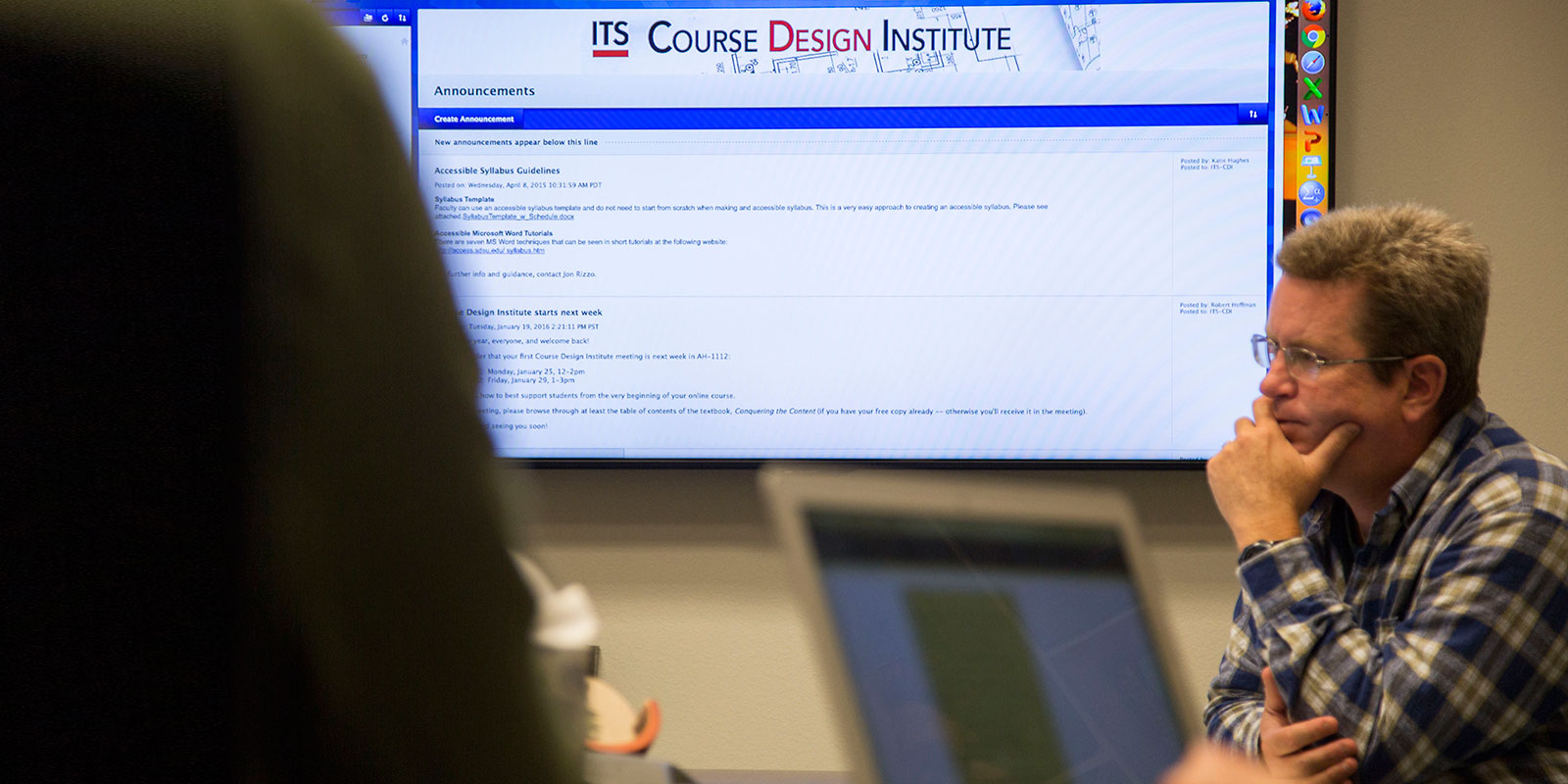 The Course Design Institute (CDI) provides opportunities for faculty to work with peers from different disciplines to design and develop fully online courses. Collaborating with colleagues outside their usual departmental circles as they develop their courses, faculty focus on pedagogy, with a major emphasis on interaction and student engagement.
The CDI is an intensive, 16-week, semester-long training experience for participants. It usually includes reassigned time (course release) for instructors, permitting them to commit to the significant investment of time involved in the design of a pedagogically sound fully online course. Courses are selected for inclusion in the CDI based on clear evidence of student demand and selections are done in consultation with Enrollment Services and the SDSU Provost's Office.
3 Pillars of the CDI
Quality Online Learning and Teaching (QLT) Rubric
Community of Inquiry (CoI)
Universal Design for Learning (UDL)
The QLT Rubric emphasizes assessment, instructional materials, student interaction, facilitation, learner support, accessibility and universal design, and mobile readiness. The CDI reinforces these aspects through a training course in Canvas, where faculty benefit from hands-on experience as a student in an online learning environment. This Canvas course also serves as a repository for examples of best practices in online teaching and learning, providing models for faculty as they design their own online courses.
The Community of Inquiry (CoI) framework established by Garrison, Anderson, and Archer (2000) describes a learning environment characterized as a "group of individuals who collaboratively engage in purposeful critical discourse and reflection to construct personal meaning and confirm mutual understanding". The model outlines three different types of "presence" — social presence, teaching presence, and cognitive presence — that educators can establish in their online courses to encourage interaction, stimulate discourse, and promote deeper thinking.
All faculty participating in the Course Design Institute agree to include the Community of Inquiry survey of students in order to assess the levels of presence demonstrated in their online courses.
The Universal Design for Learning framework provides educators with a structure to develop their instruction to meet the wide range of diversity among all learners. UDL is a research-based framework that suggests that a one-size-fits-all approach to curricula is not effective. UDL was inspired by universal design in architecture, where design features intended for individuals with disabilities have had unexpected benefits for the general population (e.g. curb cut outs designed for wheelchair access have benefits for strollers, rolling luggage, etc.)
San Diego State University is committed to providing equal educational opportunities for all students and it is imperative that all courses and course materials are accessible to ALL students, regardless of ability.
CDI Format and Learning Outcomes
Faculty participate in weekly CDI group meetings with 5-6 peers to discuss their plans for their upcoming online courses. Group meetings highlight fundamental pedagogical principles and examples of exemplary course design, along with hands-on training with technological tools to put these principles into action. Further support is provided via one-on-one consultations with ITS instructional designers, ITS Faculty Fellows, and other ITS partners, including the SDSU Library.
CDI participants learn to:
Revise their course syllabus to better facilitate online learning.
Revise student learning outcomes and assessment strategies to make course content more compelling and useful in students' academic, professional, and personal lives.
Prescribe learning activities to help students accomplish learning outcomes.
Devise instructional materials and identify resources to facilitate those learning activities.
Put in place protocols and tools for student interaction with one another and with the instructor, that will facilitate the development of a learning community.
Choose and practice using appropriate technologies to facilitate learning activities and community.
Make course materials, resources, and activities accessible and easy to use for all students.
Implement the Community of Inquiry survey to privately gather feedback from students to help adjust their online course for future semesters.
The CDI has been the incubator for the development of more than 200 fully online courses since its inception in 2008, and was a major contributor to a significant milestone achieved at SDSU during the 2019 Summer Session with the enrollment of more than 10,000 students in fully online courses.
How is the SDSU Flexible Course Design Institute (Flex-CDI) different from the training supplied by ITS's long-standing Course Design Institute (CDI)?
SDSU Flexible Course Design Institute (Flex-CDI) familiarizes participants with the principles of online course design and offers a menu of modular options catered to faculty interest and experience. In contrast, CDI participants complete a semester-long experience which culminates with a fully-designed online course, having completed ALL these modules (and more), in a way that their newly-designed course meets expectations of Quality Online Learning and Teaching (QLT) rubric.
Instructional Technology Services
Adams Humanities, 1st Floor
San Diego State University
5500 Campanile Dr.
San Diego, CA 92182-8114