Summer 2021 classroom upgrades and installations are underway! The ITS Learning Spaces and Faculty Support team, in collaboration with Project Management and Facilities Services, is refreshing a total of 31 rooms this summer, which will include additional Connected Classrooms, new furnishings, paint, upgraded podiums, and much more.
Classroom Upgrades Completed as of Spring 2021:
(For a complete list of general assignment classrooms please refer to our (Smart Classroom List)
Completed Connected Classrooms – 102 out of 178 (56.7%)

Zoom Ready: 66
Zoom & Automated Capture Ready: 36
Classroom Upgrades to be Completed by Spring 2022 (Higher Education Emergency Relief Fund (HEERF)):
Connected Rooms in progress: 31
Projected Completed Connected Classrooms: 133 out of 178 (75%)

Zoom Ready
AH 2103, AH 2107, AH 2113, AL 204, EBA 256, EBA 258, EBA 260, EBA 340, EBA 441, EBA 442, EBA 443/444 (merged room), EBA 445, GMCS 313, GMCS 314, GMCS 328, HH 134, HH 218, LSN 132, M 207, PSFA 300, PSFA 136, PSFA 308, PSFA 318, PSFA 437, SSW 2501, SSW 2660
Zoom and Automated Capture Ready
AH 3177, COM 105, P 148, P 244, PSFA 325
Additionally, ITS completed the installation of Connected Classroom technology in 11 Smart Classrooms at the Imperial Valley campus and 4 at the Brawley campus in April. With this, both campuses are nearing 100% integration of Connected Classroom technology in all general assignment Smart Classrooms. These upgrades will continue to keep SDSU on pace with the 10-year Learning Environment Assessment Plan (LEAP).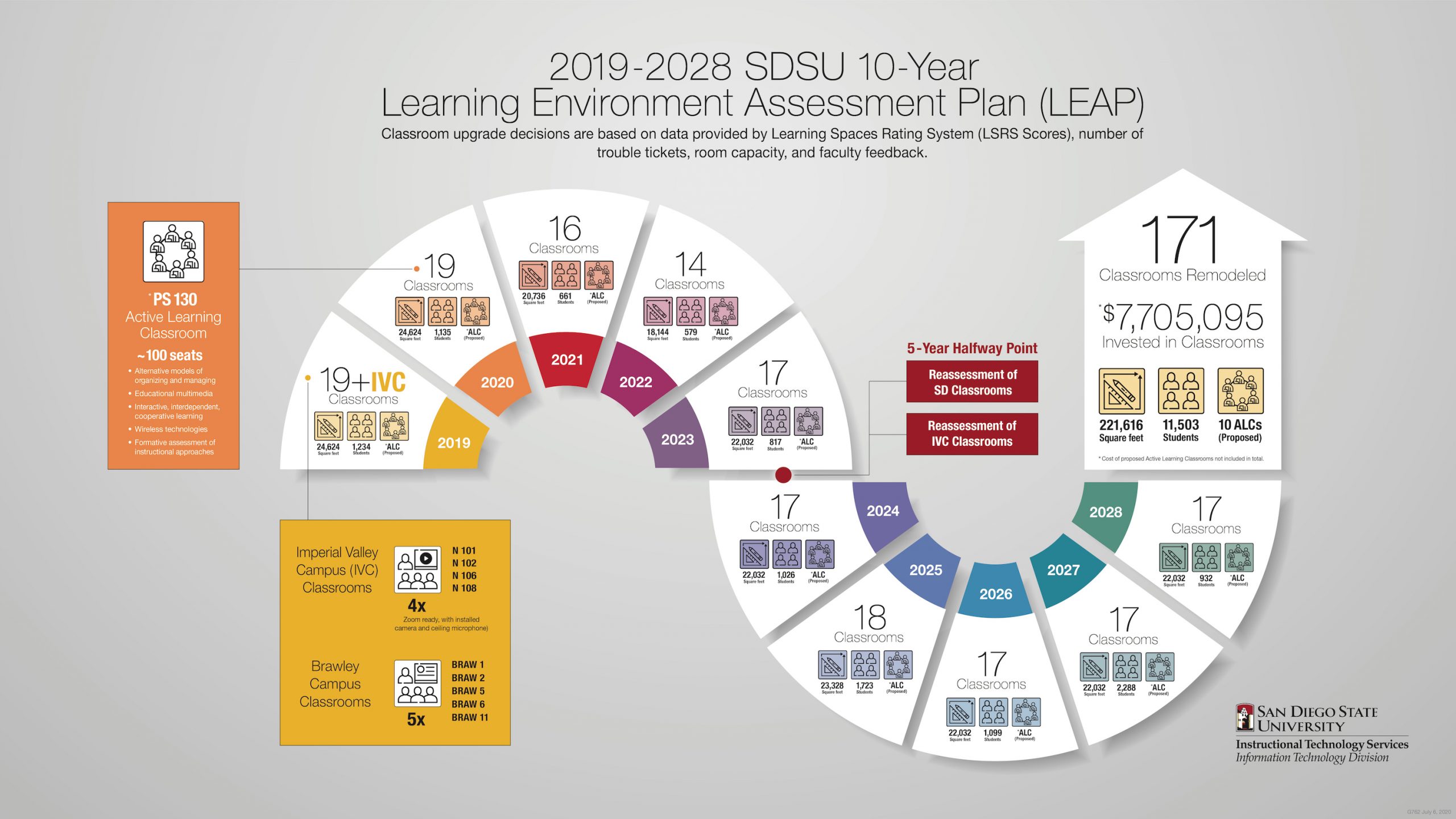 Training
If you are teaching in one of these upgraded classrooms, you may find information on training by visiting https://its.sdsu.edu/learning-spaces/trainings/. You will find links to our online classroom training course, as well as recordings of previous training workshops held in a Connected Classroom so you may see it in action. We look forward to working with you to make your classroom instruction a success!